Mauritius: a Slice of Paradise
Mauritius is a sparkling gem in the middle of the Indian Ocean. Its vast array of cultures and tastes have made this charming island one of the world's most exclusive holiday destinations. It is truly one of the top tropical locations for solo travellers and families alike, with year round sunshine, crystal blue seas, tropical rainforests and white sandy beaches.
There's so much to do: historic sights, cultural experiences and amazing geography. However, one of the best experiences is simply to witness the charm of the island's community and enjoy the relaxed warm welcome you will receive.
Wonderful climate for water sports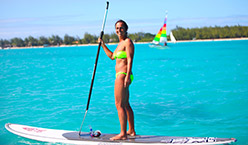 The southern hemisphere summer seasons lasts from November through to April, with temperatures ranging from 23 to 33 degrees Celsius. Sea temperatures are comfortable, usually in between 22 and 30 degrees Celsius. The water temperature never dips below 22-24 degrees, even in the winter months. Year round you shouldn't need a wetsuit, but the summer months (October through April) are generally the most popular time to visit – corresponding to the northern winters! Consistent trade winds normally are 10-15 knots (up to force 4).
Culture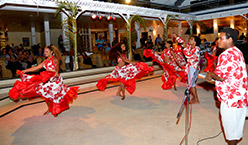 Port Louis, the capital, is Africa's wealthiest city. The smells, noises and bustle are sure to excite along with the busy markets in the central plateau towns. Everywhere you'll find the joys of Chinese, Indian, French and African cuisine, the beat of séga music and the animated party spirit of the locals.
Getting away from it all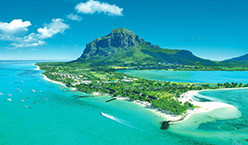 Mauritius is known for its white sandy beaches, and there are plenty of opportunities to explore the island with our organised trips. As one of the most developed of the Mascarene Islands, it is easy to find your own slice of beach paradise. However, the island has so much more to offer. You can quickly go from blue turquoise waters and sand-rimmed lagoons to the dramatic virgin forests or the Black River Gorges National Park.
Optional Adventures
Mauritius is a fascinating paradise, waiting to be explored! Now, we won't call it a crime if you spend all your time on the water and the beach - but let's say it's not far off.
You come from far, so make the most of your travels. While you can certainly spend every day on the water if you want, you may also choose a number of optional adventures as an alternative if you'd like to explore and experience a little more of the island.
From scuba diving, kayaking and kite surfing to guided tours, and so many other options – see below for a full description of all the options available to you.
When in resort you may, if you wish, trade a certain number of your sailing days for days out on these excursions and activities. For a stay of 7-9 nights you can swap up to 2 days sailing for 2 excursions, 10-12 nights stay you can swap up to 3 days sailing and 13-14 or more nights you can swap up to 4 sailing days. Of course it is entirely up to you if you wish to do any swaps. Note: some of these activities carry a small supplementary fee – see info below
Scuba Diving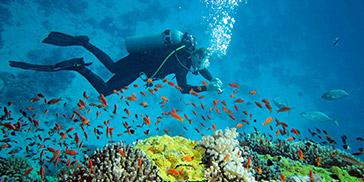 The term 'underwater paradise' might be a cliché, but rarely has it been more appropriate than in the waters of Mauritius. If you are a diver, you simply cannot come to Mauritius without exploring the magnificent underwater landscape. Large areas of natural coral are bursting with sea life, while the warm water is exceptionally clear.
Mauritius is home to some of the world's finest coral reefs and marine life ever to be seen. Teeming with hundreds of gaily-coloured fish, the underwater world of Mauritius can be deemed a natural wonder in its own right. There are about 430 different underwater creatures, including 200 different spices of coral. Some of the other uncommon water bodies spotted in Mauritius include Tuna, Wahoo and Marlin.
For experienced divers, there are two 2 hour dives included in your holiday package.
Are you a novice diver? Our Discover Scuba Diving Experience offers initiation dives that will let you try and experience scuba diving for the first time. You'll first have a lesson and a practise dive in the pool, and then you're off for your first dive at sea. This is a great opportunity to discover a new adventure and see the wondrous world beneath the waves.
The Discover Scuba Diving Experience for novice divers
Learn to dive in safe and controlled conditions under the direct supervision of the qualified instructors of Mauritius' friendly and professional PADI Dive Center. You'll learn how to use scuba equipment in shallow water or in a pool and will get a quick and easy introduction to the amazing underwater world. There is nothing like breathing underwater for the very first time. It takes a little getting used to, but after a few minutes most participants realize how easy scuba diving really is.
As part of this experience you will get to learn about the diving equipment, the basics of diving, and will also get to scuba dive in the open sea. This can be used as credit towards an actual diving course.
Requirements, limitations and surcharges
All the equipment necessary will be supplied by the diving centre, you don't need to bring anything.
Your adventure will be registered with PADI International, so you'll gain credit for a future diving course
You must be 10 years or older to take the Discover Scuba Diving Experience
The activity is accessible to anyone in good physical condition, not suffering from cardio vascular, hearing or respiratory problems. The diving adventure is not suitable for pregnant women.
Northern Catamaran Cruise -the islands of Coin de Mire/Ilot Gabriel/Ile Plate tour.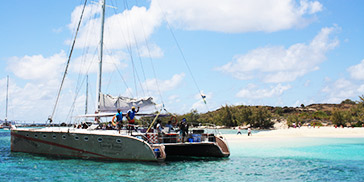 You'll have a great chance to encounter dolphins and whales on this highly informative and unforgettable Catamaran cruise to the north
A major highlight of the voyage is the spectacular scenery of Gunner's Quoin with its natural aquarium where you to swim and snorkel among a multitude of colourful reef fish. If you are also interested in a visit of Flat Island – we will be happy to take you there in our motorized dinghy.. You may also ask for our guide to lead you to some of the most spectacular viewpoints, with high sea-cliffs towering into the sky which serve as nesting grounds to large colonies of tropicbirds that are seen soaring and gliding by. Built on Flat Island's highest point is a historical white lighthouse which is still a beacon for fishermen and other seafarers entering Mauritian waters from the north. The northern isles are precious remnants of Mauritius' former natural state and important refuges for the country's rare and endangered species – many of which are found nowhere else in the world.
A major attraction on Gabriel Island is a highly recommended 45-minute hike that circles the island along a well-marked coastal trail; this trail is layered with stunning viewpoints from which you will be able to observe the spectacular aerobatics of the graceful Tropic birds – don't forget your camera! You can also snorkel in the lovely lagoon, or simply laze in the sun on the beautiful sandbar that Gabriel Island is best known for.
On the return journey to Grand Bay, we make a stopover at Gunner's Quoin and its natural aquarium where you get to swim and snorkel among a multitude of colourful reef fish.
Swim with Dolphins in the wild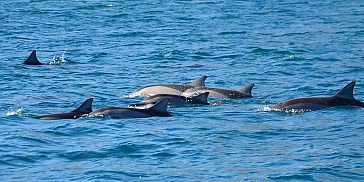 Swimming with dolphins is an incredibly moving experience that many people find life altering. This adventures take you by speedboat to full sea where, weather permitting, we approach close to these fantastic aquatic marine mammals enabling you to swim amongst them. Snorkelling & swimming at your leisure then followed by a sumptuous BBQ lunch which is served on the nearby Ile aux Bennitiers island.The crew will make it a pleasure entertaining you before returning back through the still waters of the lagoon to catch your vehicle & onwards to your hotel. A unique & memorable experience. To get an idea of how amazing this experience is, take a look at this video made by Viviane. You really will be this close to these friendly dolphins, in the wild!
Explore the spectacular lives of these magnificent marine mammals in their natural aquatic habitat. Immerse yourself in the adventure of a lifetime and swim with dolphins in crystal clear waters. When you plunge into the remarkable world of these powerful marine mammals, you may come face to face with the dolphins.
Dolphins live in pods and the Bottlenose dolphin and the Spinner dolphin have made the West Coast of Mauritius their resting place. Here they'll sleep before going to the deep sea for their fishing.
The Bottlenose Dolphin is one of the most well-known dolphins, grey in colour and between 2 and 4 meters (6.6 and 13 ft) long. Their diet consists mainly of small fish. The Spinner dolphin is dark grey, with darker patches in the tail stock, back and throat. Their beak is distinctively long and thin, with a dark tip. Adults vary in size from 1.3 to 2.4 meter. Spinners congregate in groups that vary from just a few dolphins to great schools numbering in the thousands.
Lagoon Catamarin trip to Ile Aux Cerfs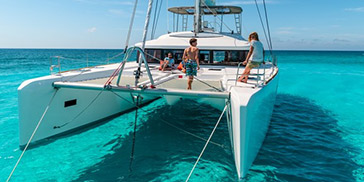 Embark in Trou d'eau Douce on one of the magnificent catamarans. Enjoy the wind in your face while you sail along the East Coast to reach the Grand River South East waterfalls. Discover swimming & snorkelling in the turquoise waters.. After a superb BBQ on board, take time to relax & enjoy this famous Robinson Crusoe style island. Enjoy an unforgettable cruising experience on a Catamaran trip in the calm lagoon waters of the Eastern coast. Sailing inside the reef through the crystal clear waters, breathtaking scenery all around, stay on the beautiful white sand beaches, snorkel inside the lagoons, explore the local marine life, and enjoy a delicious lunch. This cruise is all about making sure you have a full day of true relaxation and fun.
The catamaran will cruise along the shore line heading in the direction of the Grand River Waterfalls. Then when reaching the Grand River, you will go by small speed boats to visit the waterfalls which are found about 500m upstream, on the way you may even see the monkeys & amazing variety of birds in the tree tops before reaching the waterfall.
Following the visit to the waterfalls you will head back to the catamaran. Snorkelers will have a lot to discover. You will experience a glimpse into the beauty of our world underwater. You will get to see the amazing marine life, full with hundreds of bright-colored fish, home to some of the world's most breathtaking coral reefs and marine life ever to be seen.
Once on Ile aux Cerfs Island you are sure to have some relaxation and fun on one of the picture-postcard beaches enjoy a swim and/or snorkel in the azure sea, laze & amaze at the stunning scenery around you.
Tropical Kite Surfing Experience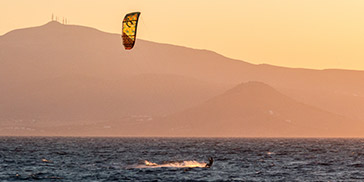 Mauritius is without doubt one of the best kite surfing locations in the entire world. If you are already an IKO Level 3 kite-surfer, you can make this an optional adventure of half a day kite surfing, including rental of professional equipment and safety cover, all included in your package.
If you are an avid kite surfer already, you simply must show off your skills in these unique and gorgeous surroundings. Are you new to kite surfing? Then Wildwind Adventures may just awaken a passion in you that you will pursue for the rest of your life.
Be aware that getting the hang of kite-surfing may well take you more than one day.
The kitespots of Mauritius are located in Anse la Raie and Poste Lafayette on the North East side of the island, on a huge and flat lagoon, totally sheltered by a reef barrier. There is a large area where you can stand and the winds are steady. The space inside of the lagoon is therefore perfect for beginners or freestylers, while more experienced kitesurfers can play with the waves on the reef.
This adventure takes place just 15 minutes by taxi from the Coral Azur hotel. The Kiteschool is open all year long from 10.00 to 13.00h, and from 14.00 to 17.00h. There is an easy and safe spot for every level. A safety boat is available, as are professional IKO certified instructors.
Requirements, limitations and surcharges
The equipment is provided specifically for schools: Bestkiteboarding, Fone and Cabrinha
For beginners, lessons in a group of a maximum of 4 participants is provided. This is mandatory. For these lessons, a supplement of €60 per person applies.
Are you an experienced kite surfer? In that case there is no supplement if you come with two or more people. For solo participants a supplement of €20 is charged.
Sea Kayaking Trip - Ile d'Ambre Island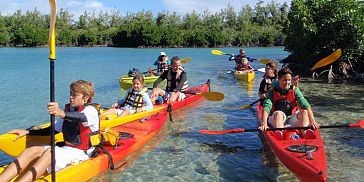 This fun ecological excursion lets you discover the secret of Mauritius' beautiful lagoons, islands, rivers, channels, and hidden beaches.
Ile D'Ambre is an islet (a small island) inside the lagoon, covered by a very diverse vegetation. The flora creates small shady water alleys under which it is nice to paddle in kayaks.
This kayaking adventure will start with a short briefing on safety instructions, before wearing the life jackets and getting ready for the trip. Then you'll be heading for Ile D'Ambre. One of the most interesting feature of Ile D'Ambre is the flora all around it, creating small shady water alleys under which it is nice to paddle in kayaks.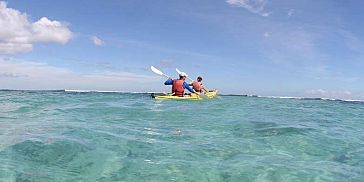 Sea Kayaking excursions will be under the experienced and professional guidance of one of the most experienced guides in Mauritius. He has years of experience and loves to share his local knowledge, passion, and love of nature. All trips are organized with high emphasis on safety, while following all safety regulations and proving full safety gear. Each trip is carried out with total respect towards nature and its preservation.
You will have the opportunity to experience much of the natural beauty of Mauritius from up close, whether it is the fine greenery of the lagoons or the magnificent open waters of the Indian Ocean.
Whether you choose one of the breezy, calmer routes, or decide to venture out into the deep ocean waters, you are sure to have a great time, regardless of your degree of expertise.
There are 3 single kayaks (4-4.5m) and 6 double kayaks (4.5-5.5m) available, all equipped with hatches, back rests, tow ropes and all safety gear, including feathered paddles and personal floating devices (PFD). Each kayak has a watertight compartment to store your spare clothing, cameras and other valuables. The trip starts at 9.00 and finishes around 12:30 pm.
Requirements, limitations and surcharges
For this optional adventure, a supplement of €20 per person will be charged.
You have to be 8 years or older to participate.
Water, juice and snacks will be provided during the trip
It is highly recommended to bring sea sandals or shoes, mask and snorkels, sun cream, towel, swim suit and spare set of clothes.
Northern Mauritius Island Tour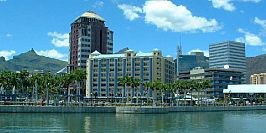 A day full of contrasts, history, culture and beauty, the visit starts from Citadelle Fort which offers a magnificent view of Port Louis, the vibrant capital of Mauritius and Africa's wealthiest city with markets & shopping centres. We drive through the city & visit Caudan Waterfrot, the Central Market & its local ambience & then the the North Coast to the busy fishermans village of Grand Bay & the picturesque red-roofed church of Cap Malheurex. A personal guide will show you around in a comfortable air-conditioned minibus, informing you on each of the sights.
Port Louis is the Mauritius' largest city and the economic and administrative centre of the island. Right off the main square you can stroll besides the palm-lined Place d'Armes, where you'll see wonderful French colonial buildings. The Government House and the Municipal Theatre deserve special mention. Enjoy a visit to Port Louis' waterfront and the waterfront shopping complex Le Caudan, overlooking the harbour. Port Louis is a hive of activity in a wonderful ambiance; the Central market is the ideal place to find many local made products, textiles, spices, fruits and, also, souvenirs at very low prices. Fort Adelaide (also known as La Citadelle). The British built this fortress, fearing a civil war from the remaining French settlers on the island and to guard the harbour against enemy attacks. The construction of Fort Adelaide started on 1832, it was completed ten years later. From the fort, you'll have a great panoramic view on Port-Louis and its harbour, so do not forget to bring your camera!
The Mauritius National Botanical Garden is home to an incredible variety of tropical plants, many of them indigenous. This is one of the most popular sights in all of Mauritius, opened by the French governor of Mauritius nearly 300 years ago. The botanical garden stretches over endless acres of land and it can take you more than a week to cover the whole garden, so that's obviously what's on the agenda for this adventure. See the famous Baobabs, the palmier bouteille, the ineluctable giant water lilies, the enormous spice garden and so much more.
Beautiful South-Mauritius Island Tour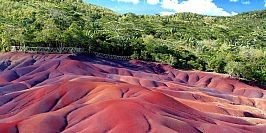 Many highlights in only one day, taking in the extinguished volcano of Trou aux Cerfs with its magnificent view & ship model factory shop in Curepipe before proceeding into the nature to visit the sacred lake of Grand Bassin the forest reserve of Plaine Champagne, the Black River National Park (from where you'll have a great view of the waterfalls) and then onto the wonderous seven-coloured earth of Chamarel with its local habitants – the giant Turtles all mixed in with a sumptuous typical Mauritian lunch in the heart of the small village.
A personal guide will show you around in a comfortable air-conditioned minibus, informing you on each of the sights
Trou auxCerfs is Mauritius' famous volcanic crater, 85m deep and 200m wide, formed millions of years ago. Here you will have a beautiful panoramic view of the crater and the town of Curepipe, and when the sky is clear it is possible to see all the way to Reunion Island. From here you will continue to the town of Curepipe, and then to the Mare aux Vacoas, the largest freshwater lake and reservoir of Mauritius that is dotted with casuarina and coniferous trees offers a unique surrounding of an alpine wilderness, visiting the Ship Model shope & onward e through the Black River Gorges Nature Park, where you will see many endangered species of plants and animals. Along the way you will stop for a viewpoint of the Black River Gorges nature park and Alexandra waterfalls, you may also be lucky & see the wild monkeys who come to nose & see who these regular human visitors are.
Grand Bassin is a lake situated in a secluded mountain area deep in the heart of Mauritius. It is about 1800 feet (550m) above sea level and, with its Hindu temple, this is a holy lake for many Mauritians. The lake rests in the crater of an extinct volcano and it is said that the water inside the lake communicates with the waters of the holy Ganges of India. The Hindu community performs there a pilgrimage every year on the Maha Sivaratri (Shiva's Great Night).
Beside Grand Bassin you will also get to see the statue of Lord Shiva, also known as the impressive Mangal Mahadev statue. With its 108 feet (33 meters), this is one of the 50 highest statues in the world.
The village of Chamarel offers no less than two natural wonders: the magnificent Chamarel waterfall is by many considered the most beautiful waterfall in all of Mauritius. The seven coloured earth is a geological curiosity, a small area of strikingly bare landscape located within a large, dense forest. It was created by volcanic rocks that cooled at different temperatures, forming beautiful patterns of colour in the exposed hillsides: red, brown, grey, and purple. When visiting the park, you will be able to walk between the many sand dunes, along trails and see this unique sight. Along the way you'll come by a small petting farm where you can pet Giant Turtles which found their home at the park..
Create your own Adventure – Rent a Car for the Day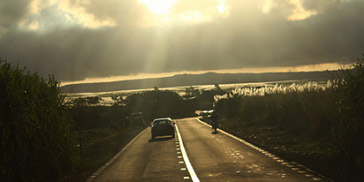 Go free independent & explore the island - Discover the 'Real' Mauritius with its little nooks & crannies. Drive by the sugar cane & pineapple fields, through Inland sleepy hamlets, beautiful scenery, local restaurants serving Mauritian delicacies, roadside stalls with fabulous fresh fruits & vegetables, amazing views from the mountain slopes & the coastal road with its stunning coastline & sea side villages offering wonderful local fresh caught fish – cooked the Mauritian way, "not to be missed". Or visit the very Southern part of the island whey you will find the beautiful beach of Le Morne with the mountain as a backdrop on the most South Western tip or visit the beautiful protected Natural Marine park of Blue Bay on the South Eastern side where you can take a boat trip inside the reef & be truly amazed at the beauty of the 40+ different types of Coral & the vast array of stunningly beautiful colours of the varies fish.
New to our portfiolio Casela, Quatre Bornes market & Flic en Flac Beach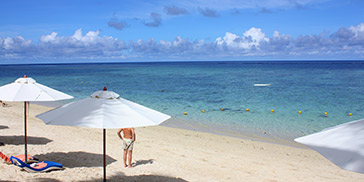 We start the day with a drive down to the shopping in the local market of Quatre Bornes located in the centre of the island which offers typical inexpensive souvenirs & general items.
Casela Adventure Park
A Drive down to the West coast brings you to the exciting Casela world of adventures. Discover a park of 14 hectares which opened its doors in 1979 and today offers a home to 1,500 birds, lions, zebras, giant tortoises, monkeys, a tiger, and many other animals. Walk through the bird aviary and interact with various colourful bird species from around the world. Or you might prefer to find yourself face-to-face with zebras, ostriches, deer, African antelopes and all their neighbours during a unique 45 minutes safari tour taking you to the Mauritian savannah on board one of the safari vehicles.
Are you a cat person? You're in luck! While you're far from the African savannah, you can experience the thrill of coming close to lions, cheetahs and tigers. Not a cat person? You might want to visit the majestic giraffes.
The kid's playground offers a classic dome, a five-way swing, a spire net, a climbing wall, springers, and seesaws among other adventures… And children from 1 to 101 will enjoy the petting farm with dear, rabbits, fawn and their other friends. What a great way to get closer to nature!
For our youngest guests, for those who are young at heart, for those who need time to switch off from hectic life in the city and for those who want to spice up their holiday with some action, the Casela Nature & Leisure Park offers something for everybody!
Flic en Flac Beach:
The short drive to Flic en Flac beach is a nice way to finish your adventurous day with some relaxation & a swim before heading back to the hotel. The beach is known as the Miami beach of Mauritius, Flic en Flac offers a long sandy beach fringed with filao trees and blue turquoise ocean. A lovely way to end your day!
Hiking World Heritage site – The Slave Route Le Morne Mountain, South of the Island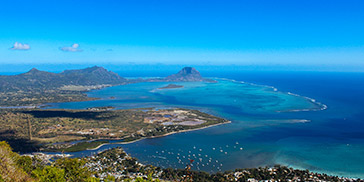 Experience a blend of breathtaking magnificent views from Le Morne mountain, endemic plants, history of slavery in Mauritius & Sporty mountain hiking. (DIFFICULTY: SPORTIF/CHALLENGING)
The first 250 meters up are easy and the path is wide. From 250 to 400 meters high, it gets more narrow and steep. The last 100 meters up are the most challenging part, but doesn't require technical equipment or knowledge. Everyone can do the walk. You just need a normal to good physical condition. May be unsuitable for children under 12 years.
We start our walk at 06H30 am in Summer (December-April), and from 07H30 am in Winter (May-November). If you are travelling from the North you will need to be up bright and early as your transfers will leave around 0515.
Recommended: comfortable clothes like shorts and T-shirt and hiking shoes with a good grip.
At the end of the excursion, enjoy light snacks & drinks by the Le Morne beach.
This is adventure is not for the physically challenged & is classed as DIFFICULT/ SPORTIF/CHALLENGING)
The Hiking adventure carries a supplement of €30 per person (for couples, families or groups).